"I think he embodied everything it is to be a police officer, and what the badge stands for," Phoenix police Sergeant Bob Knapp said of
Detective John Hobbs
. "He upheld that until the day he died."
A devoted husband and father of three young girls, Detective Hobbs served 21 years with the Phoenix Police Department. Assigned to the fugitive apprehension unit, known as the
Major Offender Uni
t, Detective Hobbs was respected and well liked by all in the Department. "John was one of the best we had," Sergeant Doug McBride said at a press conference Thursday. "He was tactically sound, a veteran detective, someone you could count on."
On Monday, March 3rd, Detective Hobbs and his partner were running surveillance and trying to locate William Thornton. Thornton, a violent felony offender,
had been out of prison less than two months and was wanted as a prime suspect in an attempted murder
- he had walked up to a person and shot him in the chest at point blank range.
The officers spotted Thornton driving around 3 o'clock in the afternoon. Thornton realized he had been spotted and sped off. The short vehicle chase ended with a car crash that injured two bystanders. Thornton then then got out of the car and fled the scene on foot. John and his partner pulled up to the scene and started to exit the car.
Using a .357 Magnum handgun, Thornton ambushed the officers. "Before [Hobbs] could even determine where the suspect was, he took a mortal wound," Lieutenant Sal Freni said. "The bullet penetrated his heart". John sustained a non-survivable wound and according to officers, John knew the wound was fatal.
Thornton wasn't done. He continued firing the .357 magnum, striking John's partner Detective Albert J. Casados multiple times. Mortally wounded, his partner struck with multiple rounds, John showed the will to fight and the stuff that legends are made of.
As he sank to the ground, he
grabbed the M4 patrol rifle from the car and laid into Thornton, scoring numerous hits
on the scumbag. Thornton died on the scene, John and Detective Casados were taken to the hospital. John spoke the whole way to the hospital and doctors tried to perform a miracle for over an hour before John passed.
This isn't a movie with a happy ending. Detective John Hobbs knew he was fatally wounded and continued to fight to protect his partner and the public. Detective Cory Geffre may have said it best:

"There is no way John was going to stand by and let that knucklehead run into a building and take somebody hostage, or shoot somebody else," Geffre said. "So what he did is he stood there and he died fighting."

"I without a doubt believe that John saved several people's lives that day, other officer's lives, by doing what he did. He willed himself to get through that, to stay on target, to finish what he had to finish, so no one else would get hurt."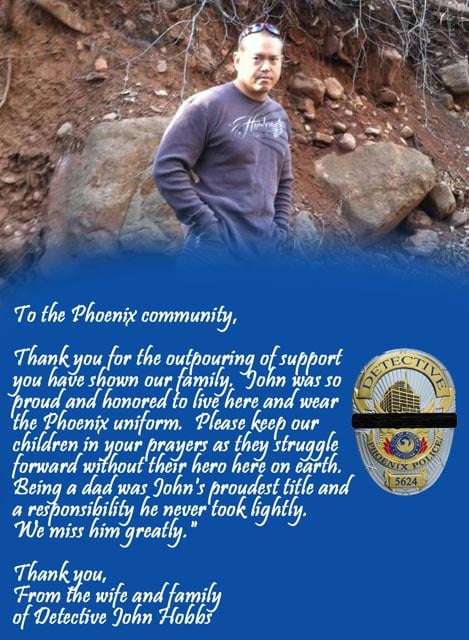 To donate to the family, please contact the Phoenix Law Enforcement Association (http://azplea.com).