Kayla Danielle Reyes enlisted in the Army at 17, deployed to Afghanistan at 19, and finished her service earlier this year. It seems Kayla's been looking for work since she returned and, as is often the case, it hasn't been an easy path. Like many veterans she's finding that
many companies not only don't recognize military service... they hold it against you
.
Now 21-years old and still enlisted in the National Guard, Kayla went for an interview at
Macy's
last month. What she found was a hiring manager who considered her service to the country and her experience overseas as a reason not to hire her. "
Being that you've been over there, you wouldn't really know how to approach people.
Once a customer's in your face, you wouldn't know how to do it. You wouldn't know how to react.[/b]," Reyes says that's what the manager told her.
The hiring manager then went on to explain that she knew what Kayla was better suited for despite Kayla having other retail experience. "She's says, 'Well I've been here 15 years, I know you wouldn't be able to do good here.' She's like, 'There's another job in loss prevention. That's what you're good for - that's what you do," Reyes says.
Kayla went to Instagram with a post that started to gather regional attention: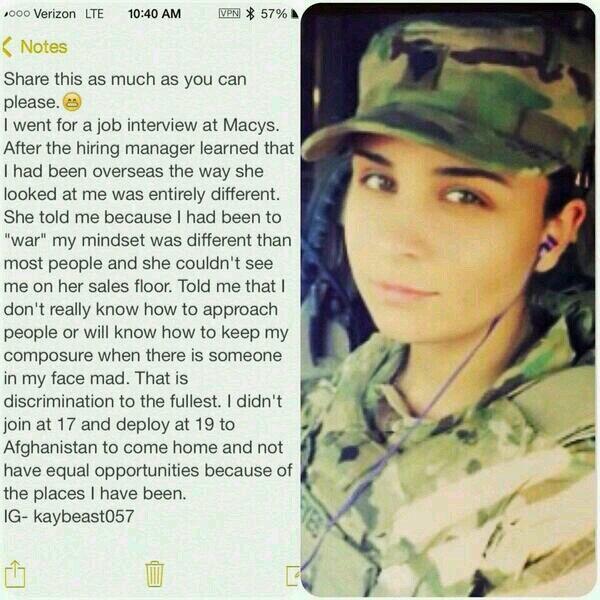 Macy's vice president of media relations Betsy Nelson released a statement going on about how Macy's is committed to hiring veterans and that "Ms. Reyes' application for a position with Macy's is, in fact, still under consideration as we continue to consider the types of retail jobs that may be available. We are actively looking for an appropriate open position that would be best suited for her skills and experience level, as we do with all prospective employees."
I bet it's under serious consideration now that Kayla's story is getting attention. In the mean time, Kayla says she has decided to go in another direction and has accepted a job with the California Department Of Corrections and Rehabilitation.
I don't know about you, but I'm a big believer in hiring veterans exactly for the qualities that serving says about the person - particularly people who signed up during the GWOT (Global War on Terror) because they knew they would get deployed overseas.
Every employee hired by a business has a risk/reward , yet no veteran should have their service held against them.