Joseph Madsen
, 25, and
Troy Barnett
, 26, of
Salt Lake City, Utah
found out Sunday (May 25, 2014) just how dumb it is to threaten daddy's little girl. The two jerkoffs (pictured below) were calling a girl they knew and threatening her.
Nothing says class like making threats to a women, right?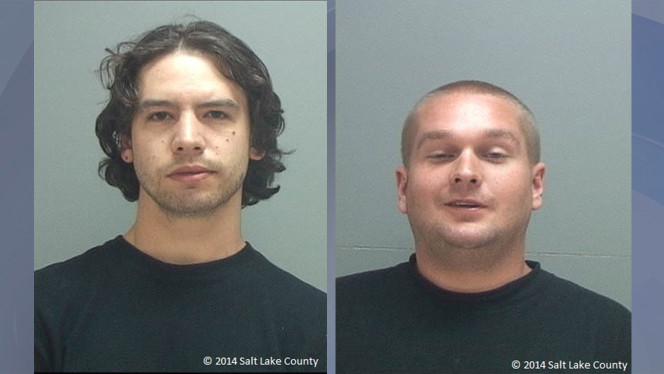 "(The men) were calling the daughter beforehand and threatening her," said Salt Lake City Police Detective Veronica Montoya. "She chose to not answer the calls, and then they showed up at the home."
That's right. The girl did what many so-called "experts" say to do and simply ignored the men and did not answer the phone. Did that stop the problem? Nope. Madsen and Barnett went to the girls house and kicked in the side door to access the home.
The girl's father was home and heard the door being kicked in so he grabbed his handgun and confronted the two men. Madsen briefly pointed his handgun at the father before the two jackasses fled after the father recognized them.
Based on the father's identification of the men and the phone records, police tracked the men down and apprehended them on charges of aggravated burglary and aggravated assault.
"I think the two suspects are very lucky they weren't hurt, because I think most people would agree if somebody comes kicking your door in and is armed and you're armed - I'm really surprised he didn't hurt them," Montoya said. "Luckily no one was hurt, in both cases."
More recent stories:
-
My son was not a victim of gun violence
- [05/27/2014]
Handgun defensive gun use in New York City? Inconceivable! (New York)
- [05/25/2014]
Two robbers in his store, a gun in his face, and he still fights back (North Carolina)
- [05/21/2014]
22-year-old woman draws handgun, stops robber (Iowa)
- [05/21/2014]
Concealed carrying clerk stops teenage robbers with rifle (Ohio)
-
Chipotle, Open Carry, and Common Sense
and