A drunk with a shotgun loses to a resident with a BB gun. Impossible you say? Never underestimate the power of stupid and drunk.
Scumbag Scott Bostic and some friends were drinking and driving around Spartanburg County, South Carolina Tuesday night (July 15th). When the men realized they were almost out of gas Bostic said "let's go to Mayo and get gas money".
Using the guise of selling guns for cash, Bostic and his accomplices entered the home of a known accomplice holding their guns in their hands. Bostic pointed the shotgun at one of the residents and said, "
You know what time it is, give me your money" and ordered all of the residents to get naked and lay face down on the floor.
The homeowner, Gary Henderson, originally thought it was a joke because he considered Bostic a friend. When Henderson said he only had ten dollars,
Bostic fired a blast from one barrel of his double-barrel shotgun
. Gary said the blast barely missed his roommate's girlfriend.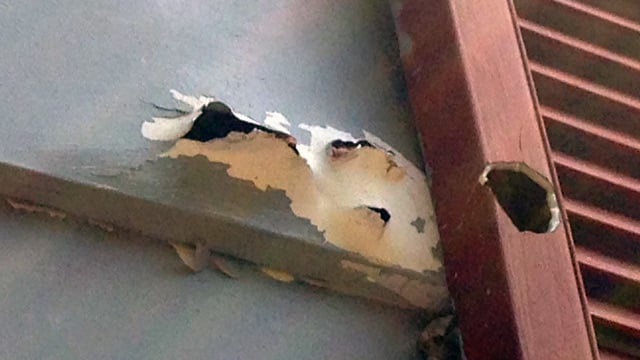 The damage caused by the shotgun blast
That was enough to cause Gary to
grab the closest weapon he could find... a realistic looking BB gun
.When Gary raised the gun at Bostic, it caused a moment of hesitation and the other people in the house tackled him to the ground and took the shotgun from him.
A fight ensued that included Bostic hitting one of the residents with a tire jack but ended up with Bostic in the back of his pickup truck, bloodied. The truck fled the scene and was tracked down by police who took Bostic into custody.
And that is why you
never bring a shotgun to a BB gun fight... right?